Residential Interior Design Services: Elevating Your Bathroom Design
Decorating the bathroom is among the features of residential interior design services. Often, the bathroom is a neglected area for decor and design. This may be because it is a tricky space and a challenging one. As a top interior designer based in Malibu and Studio City, I step up my game and give each bathroom project all the love and care it truly deserves. Let me walk you through one of my residential design services in Hancock Park that focuses on the master bathroom.
Residential Interior Design Services Focus: Bathrooms
Double bathroom vanities is a must-have for couples and families. Every spouse deserves their space and storage to organize personal grooming essentials. For this particular master bath, the vanity is the main focal point. I accentuated the vanity with a beautiful tile backdrop to create an accent against the undertone bluish-gray walls.
The cabinetry is custom-made and is topped by a beautiful marble countertop. I maximized the floor space by opting for a table with a drawer between two vanities. It can act as the common area for shared items. The space beneath can be used to add a chair to provide comfort.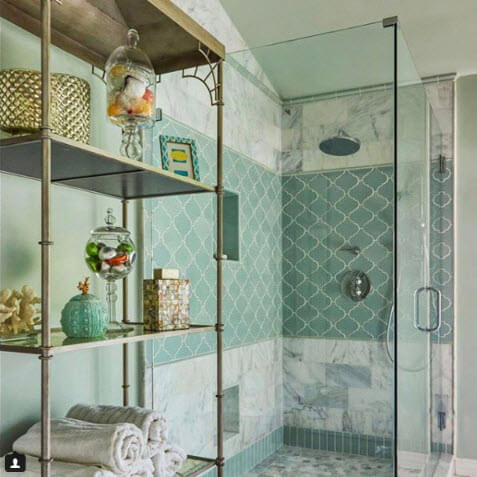 The homeowners didn't mind not having a bathtub but loved having a shower enclosure. Beautiful glass shower doors are used to enclose the area. We opted to use four different designed tiles that have the similar hue to add interest and texture. Simple fixtures were added and a large shower overhead to keep the design balanced.
The brass rack is the perfect piece to organize their towels. Since we're aiming for glamour and a luxurious vibe, decorative accents are added to elevate its appeal.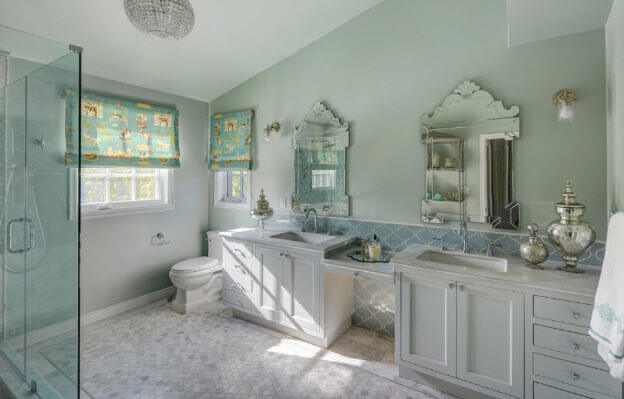 Since my client loves a hint of "surprise" to spark interest in every room, we decided to go for the dog printed window treatments that create a casual look against the glamorous appeal.
Beautifully carved mirrors are placed above each sink. Silver vases add sparkle to the room. As a cherry on top, we used a stunning crystal chandelier to light up the room.
My client was very happy with all the choices we came up. It was a team effort both of us truly enjoyed. As part of my residential interior design services, bathroom decor is a must have. It's an essential room in the house that provides privacy, personal comfort, and space. Elevate its decor and make it your favorite area!