Living Room Design Elements – Important Interior Design Elements in a Living Room
Decorating a living room or a family room can be tricky. That's why I always make sure to speak with my clients and get to know their lifestyle needs. From there, I'll have an idea what living room design elements I can incorporate to make their home reflect their family's culture and values. As a Malibu interior designer, I always make sure to apply the essential elements every living room should have. Here's how I evaluate each piece of furniture, accessory, and how these will make a serviceable living room.
Seating arrangement – a critical living room design element
Seating should encourage people to spark up a conversation. A living room is a place where people talk and share thoughts. For people to have a great conversation, sofas and side chairs should be properly arranged. Two sofas can be placed parallel to each other. If my client wants to have a sectional sofa, I add side chairs adjacent to it for people to have a natural, free-flowing conversation.
A living room should have a focal point or main attraction
Not all my clients have a separate living room and family room. When this is the case, I make sure to ask what my client's preferences are. Some may prefer to have a fireplace as their main attraction in their living room or a customized media cabinet with a huge television. However, there are a few who want both – a fireplace and a television in one room.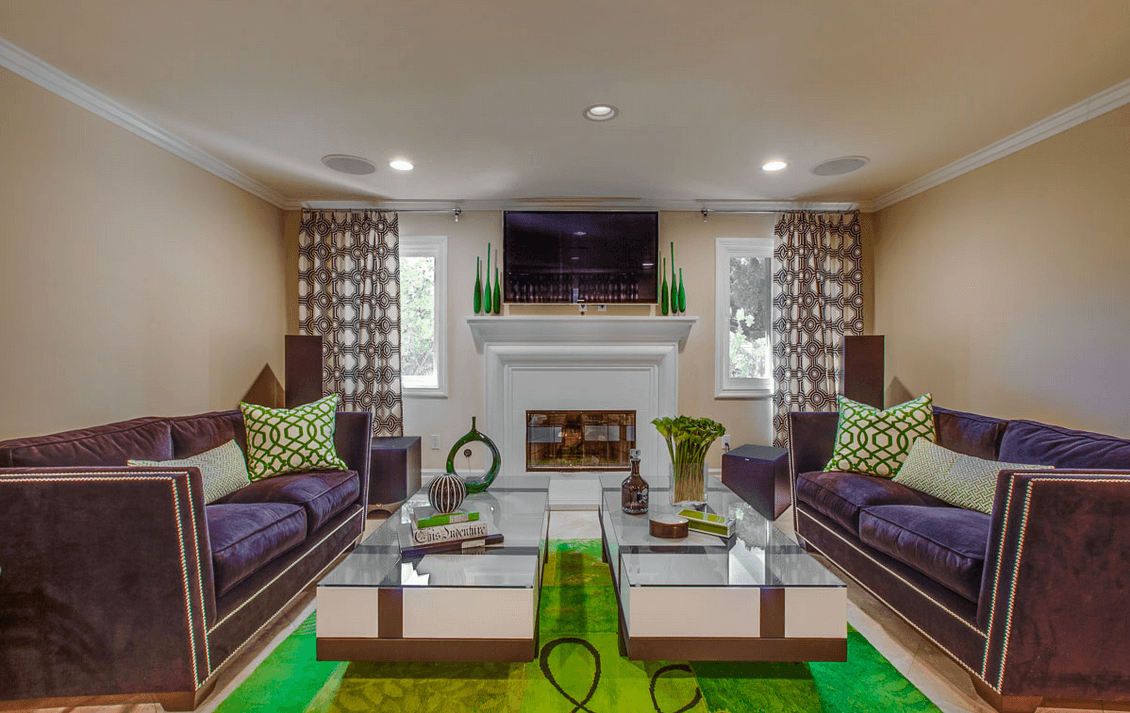 Shown in the photo above is one out of the many living room designs I created for clients. We settled on a streamlined and balanced look. We duplicated most furnishings on either side of the fireplace and wall-mounted television which serve as the primary attraction of the room.  The symmetry in this room balances the boldness of colors.
A living room cannot be awesome without a coffee table
Coffee tables serve as a great centerpiece in every living room. It somehow neutralizes all the furniture that surrounds it and makes the entire room complete. Whether made of glass, brass or an ottoman, a coffee table is one of the essential pieces every living room should have. It provides a place for people to bond over tea or coffee.
Sofas with comfortable pillows
Family and guests can get extra comfort with a pillow readily available. Even though a sofa is comfortable as it is, some of the guests may need additional back support. Good thing these accent pillows can give all the support and care they'll be needing. In addition to the comfort factor, throw pillows are the perfect way to add accent colors to the room. I prefer sofas in neutral colors. So, I like to spice up the neutrals with accent color pillows. These can be color coordinated with the accessories in the room. The accent colors make the room more exciting and create visual drama.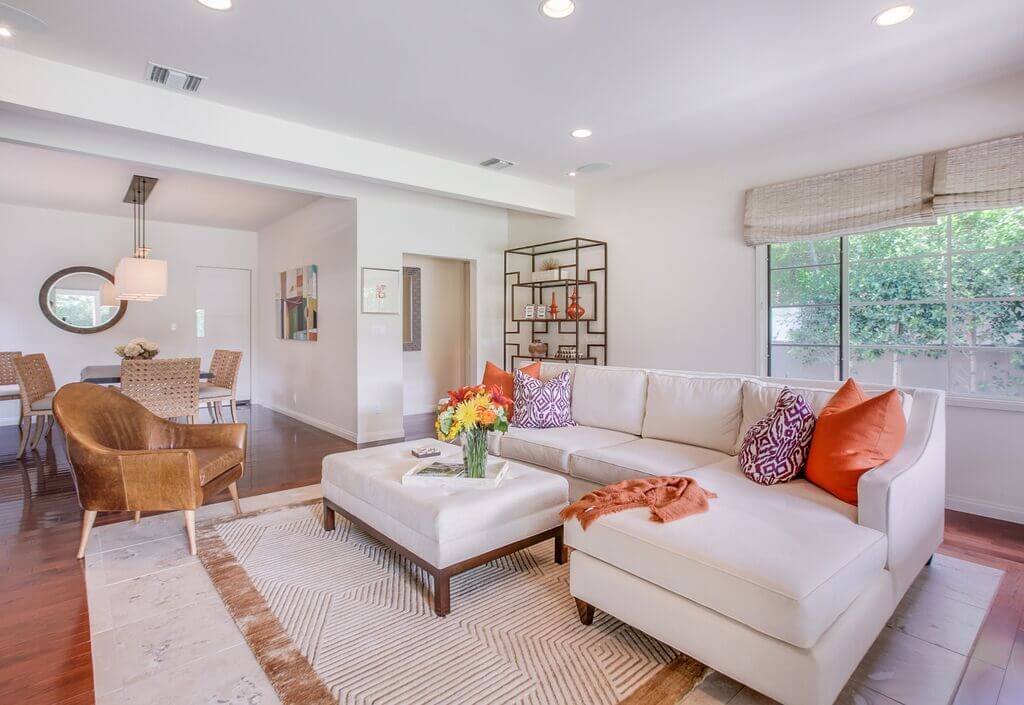 A floor rug is fundamental for living room.
There's no doubt that the floor rug completes the entire look of the living room. It makes the space warm and inviting! Play with different textures that set different moods. Opt for carpet that feels good on the feet whether it feels soft, warm, or smooth. The rug can also add pattern or accent colors to the room. The rug in the photo above adds both texture and pattern. The rug in the black, white and green room adds not only pattern but accent color as well.
Bring personal items into the living room.
Putting something personal in the living room makes it unique and homey. Use the side tables to place family photos in interesting frames. These extra details make the room more welcoming and personal.
Need help to help choose the right design elements or create an Interior Design for Living Room or Family Room? Give me a call at 818-760-3399 to see how we can help.