Los Angeles Interiors – Living Room Design Ideas
A living room has many functions. It can be used to accommodate and entertain guests, as a place to relax, sip a warm and soothing cup of tea or do completely nothing but hangout. If you don't have a separate space for the family room, the living room can be used for watching television and spending time with the family.
Creating an interior design of the living room can be quite challenging as it is, generally, more formal than a family room. However, if you've made up your mind as to its function, designing the living space can be fun. Below are some living room design ideas I've worked with my clients across the Los Angeles area to decorate.
In this open living room design both the living room and entertainment areas are in one room. When designing a living room, don't be afraid to go bold. Bring in some personality and flair by adding decorative accessories, colorful furniture, artwork, area rugs and curtains. Make sure all of these complement one another.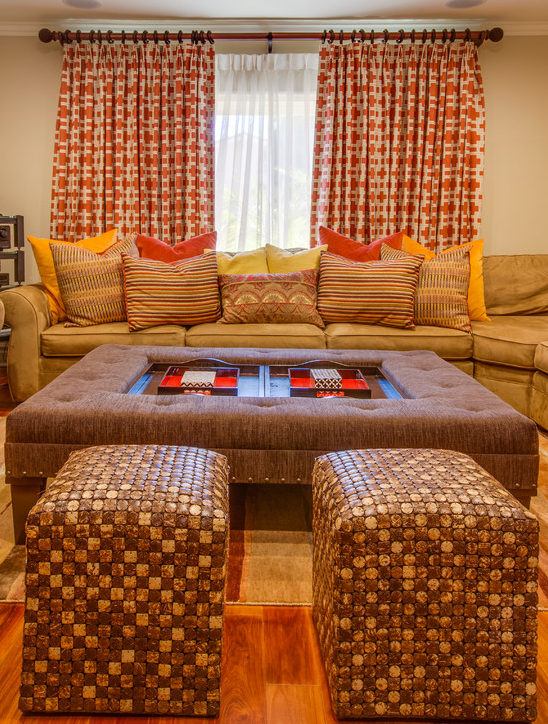 A comfortable sofa or sectional sofa and a coffee table are some of the basic furniture of a living room interior design. To make redesigning and remodeling easier in the future, you can stick to neutral-colored sofas, ottomans and area rugs which can easily blend with any color.
You can  always add a pop of color to your living room by accessorizing – setting up picture frames, use accent pillows and window treatments.
Glendale Living
A well rounded living room interior design should have a focal point. In the photo shown above, we've created a look where both the fireplace and the built-in television are the main attraction inside the room. The symmetry of the tables and sofa gives an added compliment to the fireplace.
A living room that opens on to a pool
Lamps, ceiling lights and lighting fixture helps to brighten up the room. Also, a living room would not be functional if it lacked storage. A personalized cabinet or built-in cabinetry are great additions in any living room.
If you are thinking of a new interior design for your living room, we can help. As an interior designer and the owner of a furniture store, I can often help you find selections at a more affordable cost. Custom design without the custom cost! Give me a call at 818-760-3399 and schedule a time to discuss your living room design ideas.