Decorating Ideas – Interior Design Ideas for Apartments
Every project, no matter how big or small, challenges me to let my creative juices work and deliver each design according to my client's needs and wants. In approaching a small space such as a bachelor's pad or an apartment, I use a different approach. Most of the time, furniture used is smaller, yet stylish and functional. Here are some of my personal picks and tips for interior design ideas for apartments.
Creams and light hues for walls.
I strongly recommend small apartment owners use creams and light hues for their wall treatments and furniture. It can make a room look larger especially when brightly lit. You can always add a burst color through accents to bring the room to life.

Photo from Freshome
Minimal window treatments.
Minimal window treatments allow natural light to enter the apartment space. Use curtains that create a comfortable and light atmosphere – shades of cream, yellow, light green or soft blue. To add additional height to the room, make use of curtains that hang almost the full length from ceiling to the floor.
Incorporate curves to the design to add visual impact.
Most apartment areas are box-like or rectangular in shape. Instead of using a rectangular dining or coffee table, opt for a round table. You can also play with accents or decorative accessories to incorporate a rounded shape to the overall design. There's something about this visual trick that can make the room seem larger and more spacious.
Use functional glass furniture.
Photo from Elle Decor.
It may look unconventional for some but using lucite furniture tricks the eye by creating an impression of openness while delivering function in the room.
Use of wide wall mirrors.
One of the most widely used tricks that most interior designers use to make a room look bigger is incorporating mirrors. It creates an illusion that can appear to double the room's space. Just take a good look in the photo below.
Photo from House and Garden.
It looks like an entryway, but it's just a reflection of the other side of the room. See how it can trick a mind that it's an entryway into another room? Awesome trick right?
Hang shelves or make them float.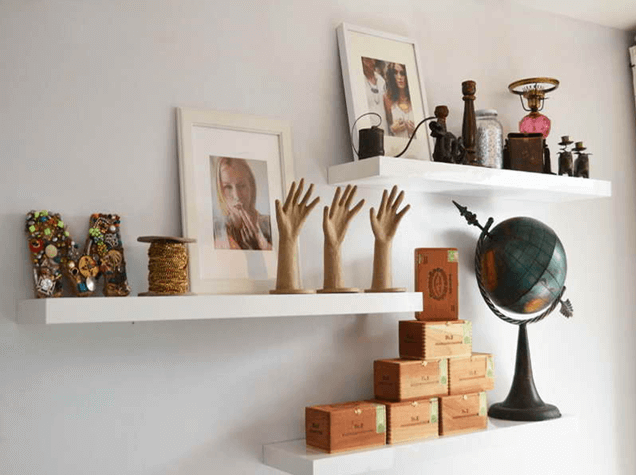 Photo from HGTV
Because every apartment needs ample storage, you can save space by installing floating wall racks to keep your books and important things organized. Bookshelves or custom shelvings can consume a lot of space. Let your things float or hang but make sure to make it organized for a clean, streamlined look.
These are some of the many possible interior design ideas for apartments. I recommend function be a priority in every small apartment design.  If you live in Santa Monica, Malibu or Pacific Palisades and have an apartment in need of design services, please be sure to contact me through phone at 818-760-3399.