Chandeliers as Decorative Light Fixtures
As an interior designer and a homeowner, I prefer using chandeliers instead of overhead lights as they provide softer lighting. Not only do they make a room inviting, chandeliers can be a great decorative accessory to give a room a visual focal point.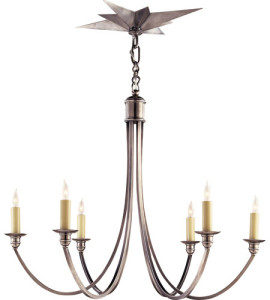 Chandeliers are commonly used in foyers, living rooms and in dining areas. There's an increasing trend for this type of lighting fixture to be installed in bedrooms as well. Adding drama and additional room decor.
These lighting fixtures come in different style and sizes that can please anyone's taste. Chandelier designs can range from beautiful glass fixtures, crystals, drum, beads, porcelain, Victorian to brass. Materials can also range from faux candlesticks, wood or metal. They come with lampshades and without. Styles can range from very traditional to very contemporary.
The most popular choice would be the glass chandeliers. They are versatile, easy to blend in any room and are easier to clean and maintain. But if you're looking for the added charm and sophistication, I recommend crystal chandeliers as it causes the lights to sparkle.
Before selecting a chandelier for your home, I always make it a point to consider my client's style and existing interior design. Chandeliers should compliment the overall look of a room and not ruin the design.
Here are more tips every buyer should consider in selecting the best chandelier:
The size of the chandelier matters. Unless you have a very trained eye, I suggest choosing a chandelier that appears slightly larger than you think is right. A small hanging light fixture can be a bit distracting and awkward for a large space.
If the chandelier is used for the dining room, consider the size of your dining table. The best size or diameter would be half the width of the table.
Lastly, consider the height of the ceiling and the size of the room that the chandelier will be placed in.
Chandeliers on Sale
We have various chandeliers, lamps and lighting fixtures in our store. If you are looking for a chandelier or any hanging light fixture, you are in luck. We have a sale going on now for 30 to 60% off the regular price. Please Visit us in our store in Studio City and mention the coupon #CH515 to get the best sales price or email us for inquiries.