Incorporating Animal Prints in Interior Design
Mix Animal Prints with Neutrals in Home Design
Animal print is still a popular trend both in fashion and interior design. Applying these prints as accents can instantly create a 'wow factor' that gives your room flair. Using animal prints in interior design can be tricky because adding too much of it can make a room look cheap. When using leopard, zebra, peacock or any animal print, make sure to use it sparingly.
Animal prints work best when partnered with a plain color or neutrals. In this contemporary living room design, the color of the window treatments, walls and the lamp are all simple and clean.  This allows the decorator to add appropriate accents that add drama to the room. Because my client loves a laid back look, all the simple furniture and elements are accentuated with a soft gold zebra print pillow.
Can't get enough of the animal print fad? You can also bring a little bit of an Amazon vibe into your bedroom. This beautiful leopard ottoman is just a perfect addition and contrast to a sophisticated bedroom.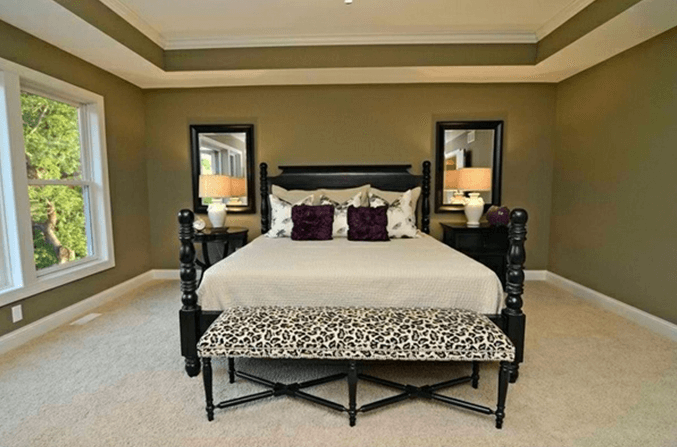 Photo from AVSO.
If you love the bright colors of a peacock, this beautiful print can be used for custom-made furniture or accent pillows. These create a distinctive style that is in between loud and laid-back.
Or this beautiful giraffe print that works perfectly in soft-cushioned sofas and chairs.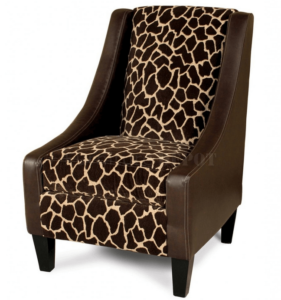 Chair made by Oly Studios
Loud and bold approaches in mixing prints are embodied in this eclectic office I designed for a client who lives in Malibu.
Animal Prints are Timeless
Animal prints run the game from leopard to zebra to giraffe and more. It seems that at any particular time one is more in fashion than another. However, they are so classic that even when the whole world is showing zebra, a leopard pillow or small ottoman will still be in style. Another wonderful thing is that wherever you decide to use animal prints in interior design, you will never feel it looks dated.
The designer's secret to combining bold patterns and prints, be they animal prints or otherwise is to make sure of a few elements. First of all, they must be color coordinated. That doesn't mean they have to be the same color, but colors that work together. The different patterns must also be different in scale. That means the objects or shapes of one pattern should be noticeably smaller or larger than the other one. Also, frequently, two patterns that work together will have different types of shapes, in other words, one is rounded or curved while the other one is angular shapes.