Decorating My Very Own White Kitchen Design in Malibu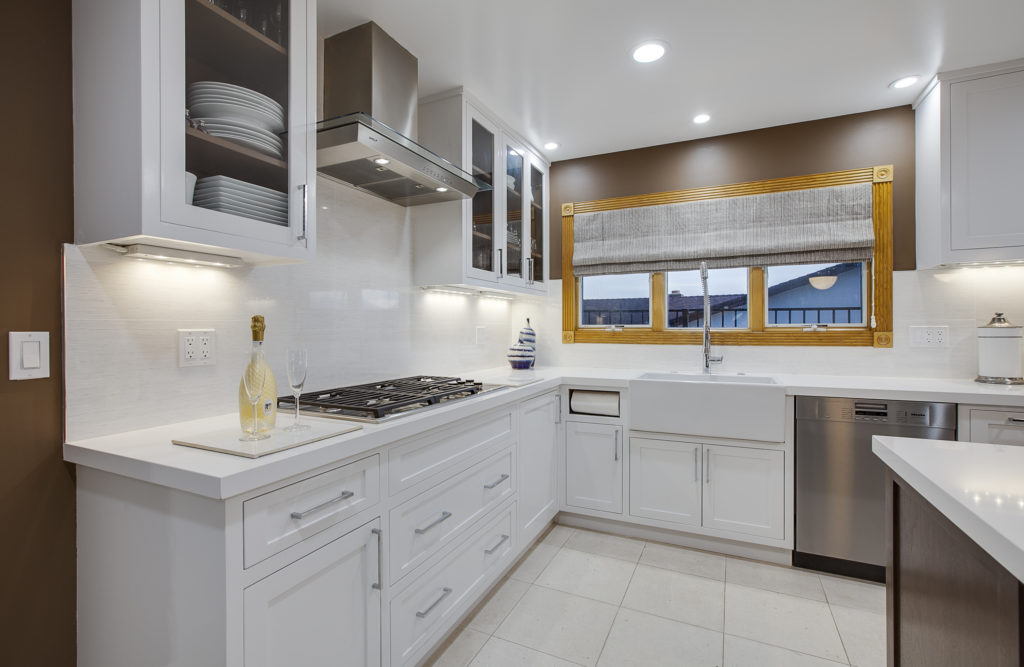 White Kitchen Design in Malibu
The kitchen is always the heart of the house. We have heard that so many times. There are so many ways to design a kitchen, and there are also many places from which to start making choices. As an interior designer in Malibu, Santa Monica, Pacific Palisades, and Los Angeles, I get a sense of what's most important to my clients, so we know where to start. When I designed my white kitchen, I decided that the most important element to me was to have a clean, streamlined look and functionality for the way my family lives. Like most people I have a great deal of things to store, so I needed the maximum amount of cabinet storage. I also wanted to keep as many things as possible off the counter tops.
The overall look of the kitchen is a lot of white broken up with a milk chocolate color to provide some contrast. I decided on white cabinets to promote the look of the white kitchen. Making the island in a dark finished walnut gives some character as well as a contrast in color and texture to the white painted cabinets. I chose a white Quartz for the counter tops to stay with the white theme, since I find white the best surface on which to prepare food, and because Quartz is a practical material for counters. It is heat and scratch resistant and won't stain when food or wine is spilled on it. I love my island. It gives me so much more counter space and a place for my kids or my friends to sit and hang out while I am cooking.
Malibu Kitchen Design and Custom Storage
The cabinet under the corner of the kitchen counters is usually a lot of dead space. The old go-to solutions used to be a lazy Susan on each shelf. However, now there is a unit that can be installed in the corner cabinet that swings out to give the easiest possible access to anything on either shelf.
Knowing that I wanted to keep my counter top as uncluttered as possible, I designed an appliance drawer to keep all the device that I don't necessarily need every day. I measured my tallest appliance and then made sure the drawer was tall enough to accommodate it.
Before I renovated my kitchen, we had a very cumbersome and unattractive bread box that sat on the counter top. So, I decided to create a bread drawer. It is a very simple thing to revise a drawer into a bread drawer by ordering and cutting to fit the acrylic sliding lid, and voila, no need for an ugly bread box on the counter!
A kitchen should always be designed with amenities that work for the person who lives in that kitchen. Another thing I never liked was a paper towel holder that sits on the counter top. For that reason, I created this little cubbyhole to house the paper towels. It is conveniently placed right next to the sink.
Custom Bar Stool Design with Laminated Fabric
I designed bar stools that coordinate perfectly with the look of the kitchen. The frames are polished nickel that match the finish of the drawer and cabinet hardware. They have backs and are upholstered in a laminated fabric. Upholstered stools with backs are the most comfortable if you want to sit on them and hang out for any length of time. Any fabric can be sent out for laminating. It puts a plastic coating on the fabric so that it can be cleaned with a sponge. When it comes to upholstered stools in the kitchen, most likely food will find its way onto the stools at some point. Being able to wipe them down with a sponge makes eating at the island stress-free. I chose the geometric chocolate and white chevron pattern for the upholstery to stay with the clean and graphic two-color design story.
If you are considering renovating your kitchen, and you want a space specially designed for you and all your needs and desires, give me a call. I can help you figure out what you need even if you don't realize it yet. I can also offer you numerous color stories and interior design colors from which to choose, from neutral to colorful. Give me a call at 818-760-3399, and I will create your dream kitchen.