The Color Purple in Interior Design
As an interior designer in Los Angeles I am always looking for new inspiration and new color stories to update the furniture and accents in clients' homes.
The color grey has been trending in home design for quite a while. Grey can be accented with a variety of colors. Some clients keep it all neutral with shades of grey, black and white or off-white. In my opinion as a designer, it is much more interesting when another color is introduced as an accent. Up until now, I usually accented grey with yellow or orange or turquoise. Presently, I am promoting purple in interior design as a unique color choice to accent grey as can be seen in the vignette here on the floor of the store.
Purple is the color of royalty and can create a very rich effect in a room.
There have not been very many choices in the market for purple accessories. That is why I decided to mix it with black and white along with the grey main color. The black and white adds an edge and an energy to the story as well.
I did find these great photo frames in a purple batik pattern and a frosted glass bowl in purple.
There is also the Chinoiserie ceramic container with a scented candle in it.
Of course, pillows with prints showing purple are the best accents. Here I used a purple and teal print.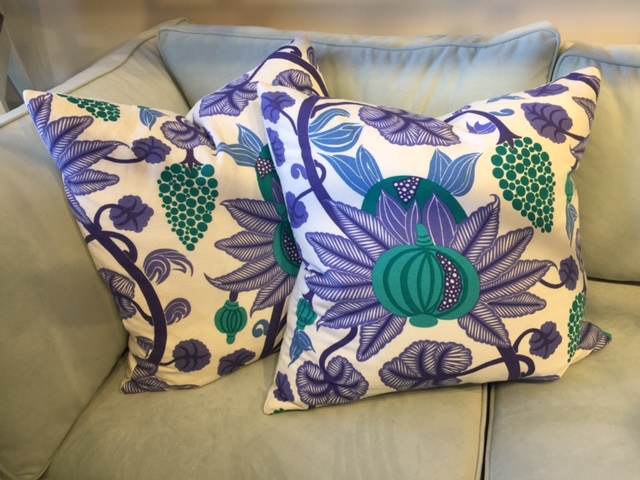 This watercolor print pillow is another beautiful design with purple as one of the main colors.
Purple glass lamps will add a touch of the color to the story. Since they are glass they will reflect light and add a bit of sparkle.
Another fun combination is mixing purple with red. Here is a print with purple and red flowers, and another purple and red velvet stripe.
Interior design is constantly changing. We designers are always looking for new ways to approach the same challenges. It is always refreshing when a new color that hadn't been seen very much becomes popular.