Pool House or Cabana Room Decor
Many homeowners in Los Angeles, Malibu, Santa Monica, and Pacific Palisades have swimming pools next to their houses. A pool house or a cabana room is a wonderful way to enjoy the pool in the comfort of climate control or out of the sun. If they have room to dedicate to spending time by the pool without actually being outside, this can be an excellent solution. A pool house or cabana can be either a detached pool house building or just a room off the pool. The one in this photo shows how, as an interior designer, I turned a family room space into an extension of the pool and brought the atmosphere of the outside into the room.
Pool House Furniture
The furniture is all upholstered in a microfiber fabric that will withstand someone sitting on it, wet from the pool. To give the furniture more of an outdoor furniture feeling, the bases of each piece are upholstered in a coarse weave faux linen to approximate the look of rattan. All upholstered pieces are arm-less to give the feeling of outdoor chaises.
Using the color orange as the accent mixed with the brown and cream is a vibrant color scheme that goes well with the bright outside colors. A cabana or pool room is the perfect place to relax before or after swimming.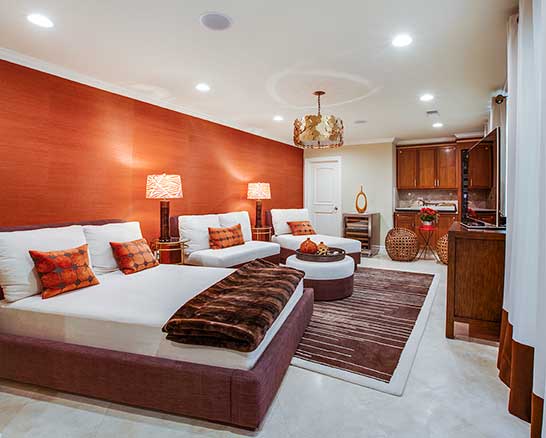 Note the TV on the wall between the sliding doors. What a great space to watch sports or a movie when you come in out of the sun, or while watching the kids while they're in the pool.
Many of us with pools have the space but have not created the atmosphere to make the cabana room inviting. If you are want to turn the pool room into your favorite room in the house, give me a call and let's see what we can create.