Home Office Interior Design Ideas
Home offices for people who work remotely or have a home based business need to be inspiring for top performance. Even offices for "home work" should be attractive and functional.  Having a stimulating work environment can help boost creativity during work hours.  There are many ideas online that can give inspiration for a home office interior design.  The trick is to find the design that matches your personality and also provides the needed functionality.
As an interior designer in Malibu, transforming a boring room into a beautiful room is a challenging yet rewarding experience. My client's preferences and style is my top priority. Personal styling may range from a minimalist to eclectic. A handful of clients like to play it safe and be somewhere in between simplicity and boldness.
This home office interior design is bursting with colors, textures, and patterns. Love of animal prints inspired this bright and quirky Nook, which incorporates an eclectic approach. For every office I design, I always make sure that the room receives ample amounts of natural lighting. Thus, installing a wide window is strongly recommended.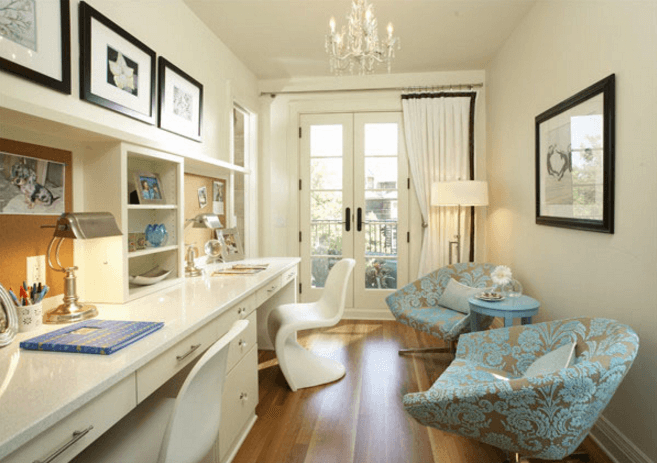 Photo from Freshome.
For those rooms that don't permit windows, a tall glass door or French doors is another option to consider. Adding a touch of feminine design can make a huge difference in any room. As you can see in this simple yet elegant office, custom-tailored furniture in pale blue and beige brought life into the room.
For the minimalist person, they often want an organized, clutter-free, and a streamlined office. They do not function well if with too much distraction around the workplace. A perfect solution for these minimalists is just to keep things simple and neutral.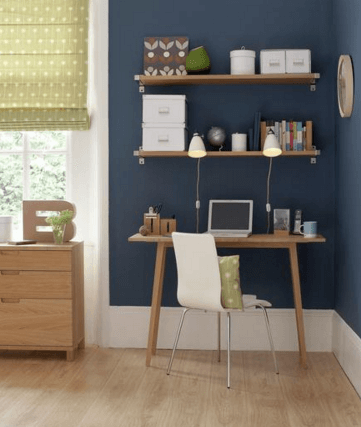 Photo from Real Simple.
Designing a work-friendly space requires collaboration with a little bit of fun with the clients. If you have a blank corner that you wish you turn into a simple office nook and don't have a clue what to do next, you can simply contact me. Together, we can turn a blank room or your vacant corner room into a wonderful and stimulating work or study area for the family.