Black and White Interior Design – Top Choice Decor for a Classy Minimalist
What's the best way to describe a black and white in interior design? As an interior designer in Studio City and greater Los Angeles, Black and white is a classic and sophisticated combination for an interior decor. It is a good choice for the minimalist looking for a sophisticated, elegant and balanced design.
The power of neutral colors will never go out of style. The black and white interior design trend will continue to be one of the top choices for many savvy homeowners. The look is striking and timeless plus the design fits in all year long.  It seems simple but getting the right balance created by the starkness of black and white with the life of color can be tricky.  Of course you want to incorporate accents that bring life and charm to your home.
Black and White Interior Design Ideas and Inspirations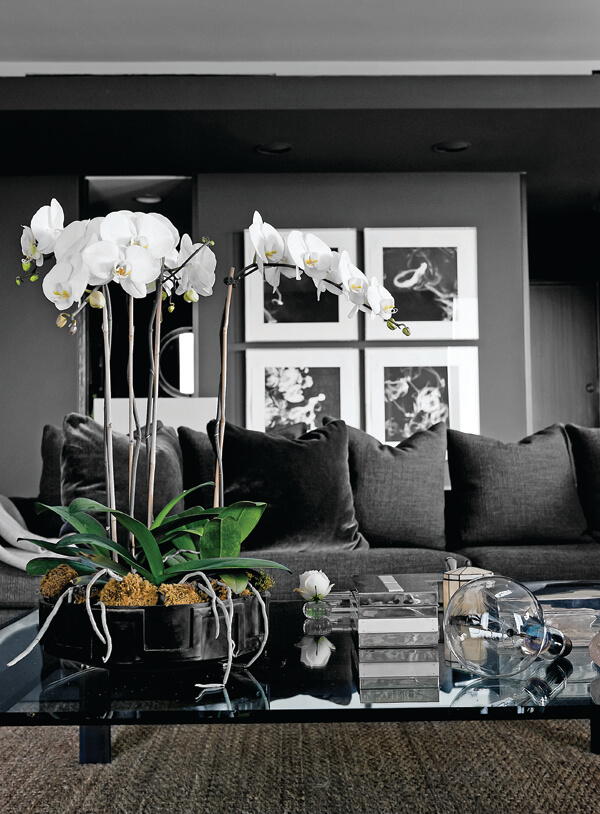 Black and White Interior Design Glamour by Sukio.
For a modern yet chic-looking design, you can use geometrical shapes to create a statement in your home. Here's an idea for using stripes as a wall accent in the bathroom.
Chic bathroom design from Elle Decor
On my previous Malibu white kitchen project, I've used white as a dominant color for the design and added a hint of chocolate brown as its accent. I might have chosen a different path and opted for a black and white approach.  In that case,  my kitchen would look something similar to this lovely kitchen design from the Decoist.
Clearly, an interior design in a black and white creates a stunningly beautiful home. Introducing bright colors as accents can instantly liven up the ambiance and add charm to the space. Freshly picked flowers, fresh citrus as accessories or throw pillows in bold colors are among the things you can do to make your living space more stylish and bursting with life.
For your home interior and residential design services, don't hesitate to seek help from a professional. Abby Rose is a prolific interior designer who serves Studio City, Pacific Palisades, Santa Monica, Malibu and the greater Los Angeles area. Feel free to contact us and ask for a complimentary interior design consultation.